---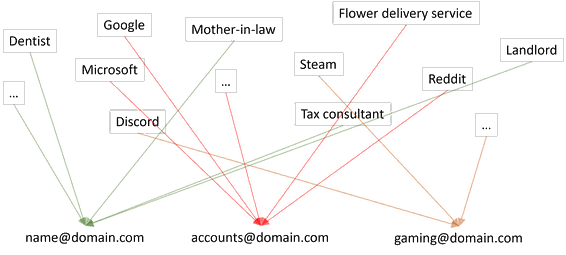 You have a few Email addresses where you kind of lost track of which is for what service? Didn't write the passwords down for them, or used the same for every single one? I have a good solution to reduce chaos in your Email setup! 
Use two or more different Emails,  each dedicated for one task only!
Having (at least) two different Email addresses can reduce Email clutter greatly. 
For example, having one Email address for your accounts on websites and services and one for correspondence helps you to not miss important Emails.
Of course, in Outlook or other Email programs you do have features for rules that sort your Emails automatically.
But admit it, if you have several cluttered Email accounts, chances are you didn't set up rules. 
The way I did it, is like this:
My Email address for human interaction and very important online services (like my bank, for example) is name@domain.com.
My Email address for accounts for online services like Google or food delivery services and so on is accounts@domain.com.
Additionally, I have another account purely for gaming purposes, which is also used for Discord and game launchers like Steam: gaming@domain.com.
You can divide your Email account functionalities in many different ways. You have a special hobby? Set up an account to be reachable only by that account for those matters!
Of course I have the luxury of having my own domain, thus I can have very easily recognizable Email addresses set up. 
But you can also do this with a Google Mail or any other provider, just use a prefix or suffix like name_accounts@provider.com. 
You should always have a professional Email set up, btw.
If I use this system to separate important Emails and accounts that tend to send newsletter and other cluttery stuff, you are by the very nature of your account - "protected". Using the filtering rule system from Outlook or other Email programs now is even more powerful, since it can be divided in Emails coming from delivery accounts, online shop accounts, my mother-in-law, my doctor, etc. 
I really like this system as it helps me in decluttering my digital life, and thus makes my life in general easier!
It of course mostly applies to my private life, as I have separate work Email addresses. But the personal life is also very important to keep tidy!
I hope you liked this article and like this way of approaching a cluttery Email life!
---