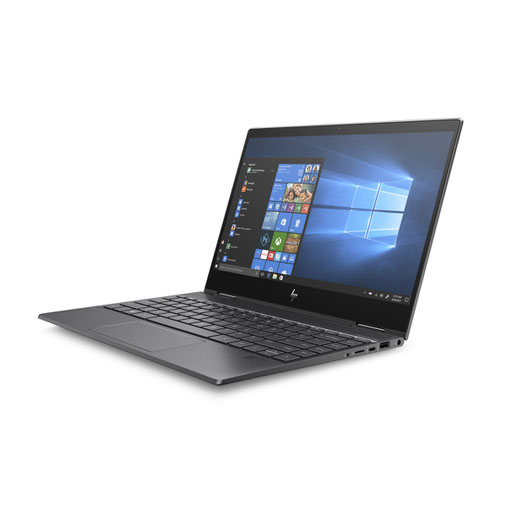 I am using this laptop since late 2019 and thus have experienced the good and the bad of this computer in the last 2 years. I want to share this acquired experience with you so you may make a good decision on whether to buy this or  a similar laptop or not.
This review is specifically about the
HP Envy x360 Convertible (Model 13 ar0107ng).
Any claims I do make here are about this model and I do not know whether they apply to other models. This also means, my model has only 13" in diagonal display size.
---
General specs
The general specs of this laptop are as follows:
Ryzen 7 3700U
Integrated Radeon™ Vega Graphics
16GB DDR4 RAM
512GB SSD main storage
Micro SD-Card reader
Hardware camera off switch
2 USB-A ports (USB 3.0)
1 USB-C port (USB 3.0)
3.5mm (1/8th") phone audio connector
Touch screen (convertable)
---
The good
Design:
In my opinion, the HP Envy xd360 13" convertable has one of the best designs on the market. It is very slim, small, all the space is used very efficiently, and all connectors are positioned so that nothing obstructs them. I really like this design and it is one of the biggest selling points, as its high quality aluminum body gives it a very good finishing.
Keyboad layout:
Once you're used to the keyboard layout, it allows for a very fluent typing motion as everything is positioned very naturally. The keyboard fills almost the whole area of the body and the trackpad is not as huge and unhandy as those from Apple products, but decent and practical. The keys themselves are very snappy and give a good haptic feedback.
Long usage time:
The laptop can be used for quite a long time and thus is suited for long business travel time and coffee shop sessions. I was able to consistently score about 4-6h of continuous use on normal programming and office tasks.
Very good audio:
The audio is exceptional for such a small device, as the Bang & Olufson sound bar snuggly fits into the aluminum body. The whole device resonates with the sound bar without being an annoyance while typing. It is of course no substitute for a decent sound device like speakers, but for a private session and watching videos, it really makes the device feel like a high quality device.
Good display:
The display is not the best, as it has no 4k resolution and is one of the weaker points of the device. But despite having just a normal Full HD resolution display, the display is of high quality and shows everything clearly. Long study and programming sessions are no problem on this device.
Generally snappy and fast:
The whole device is generally very fast and can accomplish many tasks in parallel. It doesn't stutter on heavy loads and especially programming with this device and compiling large codebases doesn't trouble the Envy x360 at all.
---
The bad
Display brightness:
The display of the device could be brighter. In Pop OS, it is possible to tweak the brightness very high, but in Windows 10 it is not possible to have a very bright display. The brightness is so low, that the reflections are extremely strong and this is a very big disadvantage. The display is very reflective and then having not much light to counter this is very annoying.
Clickery touchpad:
Just a few months after purchase, the touch pad started clicking and it felt like something became loose. This made the experience feel a bit cheap, at least on that part. However, it did not impact on the functionality of the device.
"Heatwave-Bug":
When I bought it, I had a "heatwave bug" from time to time. This meant that when I was shutting the device down, the computer suddenly started to blow air out one the highest power and started to heat up very hard. It was stuck in some kind of shutdown loop while utilizing like 100% of the processor, I suppose. A friend of mine had this bug too, and when he put the laptop into his bag, it started heating up. He did not notice it and when he took it out about 30 min. later, the laptop smelled like it was just baked. This bug didn't occur on the newer updates of Windows 10 and Pop OS 22 anymore, however, it sometimes occurred like every time I shut it down.
Palm rejection:
The palm rejection of the touch screen is sometimes very whacky and it writes a line from palm to the tip of the pen. This seems to be a bit of a bug in many devices, not just the HP (for example the ThinkPad, too), but this still is very annoying when using the touch screen to write something.
Touchscreen pen resolution:
The digitization of pen input on the touch screen is very bad when it comes to fine input. Writing big is possible, but if you want to write small lines and small characters, the input is very blocky. I always needed to zoom to write on small forms. This was very unfortunate, and the pen input of other devices such as the Microsoft Surface or Apple iPad is a thousand times better. You should not have to rely on this touch because it can become a pain in the b***.
No videogames:
Video games are virtually impossible. At least with Windows 10, the device has huge trouble with displaying games which have even remotely 3D figures in them. This means, that games that don't work that good are:
Deep Rock Galactic
Borderlands (1, 2, 3)
Dungeon Defenders 2
Smite
etc.
Games that somehow work but still are very stuttery at times are:
Factorio
Age of Empires 2
Heroes of Hammerwatch 2
So it is very unfitted for gaming at all, which is a bummer, since this device is a very new device and should at least be better than my 2012 laptop, but isn't. Very sad.
---
Conclusion
The Envy x360 13" convertible is a very good budget solution for students or programmers who need the touch screen functionality. It is very high quality although it has some draw backs, which show where the budget was cut in production price.
Using it for writing one documents or PDFs at all is okay from time to time, but should not be the focus when you purchase this device.
If you want to play games, this is nothing for you, since it is very low in 3D-computing power.
You should consider buying something more pricy if you want to play games. However if you just want to edit documents and program some software, while still having a very portable device, I can really recommend this device. Given that you can stand the negative points I listed, of course.
---